Welcome to the final part of Round 1. We will finally see all the gorgeous gals that will advance to round 2! Check out parts 1, 2 and 3 if you missed them to see the entire first round.
Power Rangers Operation Overdrive
Ronny VS
Rose
First off in this new season is the yellow ranger Ronny. And she is absolutely hot, a real babe if you will. Viewers wouldn't think of complaining anytime she was on screen, even if she had her lucky socks that she never washed, her looks easily wash everything else on screen away.
Rose is also an attractive girl. She isn't hot like Ronny, but she is cute and also nothing to object to when on screen. Though when pitted against Ronny, her looks couldn't hope to stand a chance. But here's to having two good looking rangers again!
Victor-Ronny

Power Rangers Jungle Fury

This is yet another season where there is only one female ranger. There is another female role that has a pretty large part however, so we will use her.
Lily
VS
Fran
Okay, so first we have Lily, the kindhearted, absolutely beautiful Cheetah Ranger. And when I say absolutely beautiful, that is an understatement. This girl has the rare gift of being extremely cute and hot at the same time. And what makes it better is she is a complete sweetheart, always so kind and optimistic. She is gorgeous whenever she is on screen, no matter what she is wearing. She even looks amazing in her pizza place uniform. She has a great body, wonderful facial features, and outstanding, long flowing hair. She even likes to dance, so viewers are treated to that I think twice in the series, and while they are not that provocative at all, she makes them seem superbly sexy, even doing one of them with another random hottie.
Fran, on the other hand…well just look at her. How could she ever compete with Lily? Though, she is a fun character to watch.
Victor-Lily
Power Rangers RPM
Yet another series of rangers, this time having seven all together. Of those seven, only two are women.
Summer
VS
Gemma
Summer is the only original female ranger, as this season starts off with only three rangers. She falls right into that category of "I have no idea why I don't find her attractive." Because let's be honest. She really is a great looking woman, without a doubt. Yet she failed to catch my interest while watching the show.
Gemma comes in much later in the show, as the first ever female Silver Ranger. While she is hilarious to watch with her twin brother Gem/Gold Ranger, her looks are not that favorable. When she is pictured up there next to Summer, it really makes Summer's beauty that I failed to miss watching the show stand out, and that is why Gemma will not move on to round 2.
Victor-Summer
Power Rangers Samurai/Super Samurai
Back to two starting female rangers. Let's check them out.
Emily
VS
Mia
Emily is like Syd was, as in she blatantly is very attractive, but at first I failed to notice. Only after watching the show for a while did her tight, petite body really catch my interest, as well as her beautiful face and hair eventually growing on me. And man, did she look great in her training gi.
Mia is not so great. She looks good in the picture above, and a few times in the show she was quite pretty, but for the most part, her looks were not that great, though better than her cooking!
Victor-Emily
Power Rangers Megaforce/Super Megaforce
For a season where the rangers can transform into any of the previous rangers, it really is not that great, or I was just completely burnt out from Power Rangers by this time. But this show did something somehow every other season has failed to do, and that is produce two female rangers who are drop. dead. gorgeous. Not since Kat and Tanya, or Taylor and Alyssa have two hotties been paired up, and these two blow those pairs away.
Gia
VS
Emma
It is a shame that these two girls must face each other. Each of them is absolutely beautiful. They both have a good shot at winning this tournament, yet one must fall so early.
Let's start with the wonderful Gia. She dons tight black pants and a leather jacket usually, which only a few times you see her without, revealing the yellow tank-top under it, which makes her look way hotter.Her face is perfect, as well as her blonde hair. Every time she talks or moves in the show, it just seems so sexy. But the best thing about her is that smile. It just makes your heart melt and then evaporate. It is one of the best smiles I have ever seen. She also has that rare gift of being both hot and cute at the same time, though definitely leaning towards hot, and I mean really hot…
Emma stands proudly up there, refusing to be out shined by that blonde hair and radiant smile. Her brown hair is just as perfect, and she wears small pink shorts like no one else.Her face, eyes, lips, smile and especially her body make her one extremely hot cookie. Like Gia, she too is both incredibly cute and hot, though this time, Emma leans more towards the cute side, though my god she is hot.
I hate to pair them up like this, for they are seemingly such good friends in real life and the show.
And hotter in each picture than the last.
Okay so time for the part I have been avoiding. Where I have to pick one to advance. In the beach picture, Gia has a slightly better body (note that both are fantastic bodies), but Emma has a sexier bikini, so that doesn't help matters. The close ups of their faces further above, Gia shines brightly, but the one next to that where they are wearing dresses, Emma looks breathtaking. But okay, enough stalling. I must judge how they look in the show, and for being just a downright sexy babe, this one wins.
Victor-Gia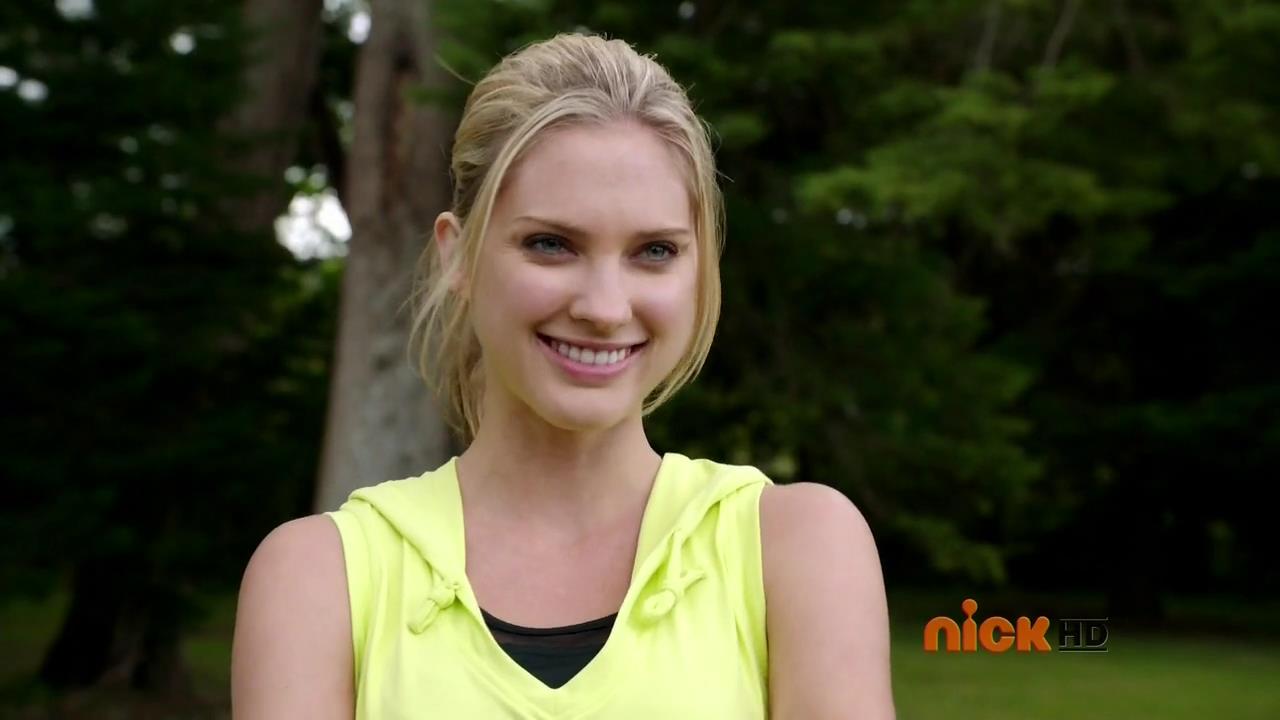 Power Rangers Dino Charge/Dino Super Charge
Okay. this is the final bout of round 1! And I don't really know what to expect myself, since I have never watched this season. But upon research, there is like countless power rangers in Dino Super Charge, but only one female ranger in both seasons, one more added in the second season.
Shelby
VS
Kendall
For the other rangers, I judged on their looks throughout the show. As I can not do this for this season, I am going off by just pictures I have seen of each character.
Shelby is not the prettiest girl I've ever laid eyes on, but she does rock jean shorts pretty well. Though I'm not that impressed with her.
Kendall seems to be some Ms. Fairweather-like girl turned ranger, and the purple one, one I had always wanted along with orange since I was a small child watching the very first season when it came out. And like Ms. Fairweather, she is beautiful. She too is hindered by lab coats and nice clothing, but the low cut shirt in the above picture is some bonus points. And its orange! She's got a gorgeous face, and a great smile, and beautiful hair as well. An easy win.
Victor-Kendall
And there you have it! All the contestants have battled it out with their hotness. 20 girls have advanced to round 2! Check it out when it comes out!