Welcome back! 10 hot and not so hot villains faced off in part 1. Let's see if there are any hotties here!
Match 6
Elsa (Dino Thunder)
VS
Morgana (S.P.D.)
Elsa is the right hand woman to the evil dinosaur man, Mesagog. She changes her appearance in the middle of the show. The above picture is her after her change.
She is an attractive woman for sure, but not too attractive. Both of her normal costumes are pretty sexy though, and this helps bring out the best of her. The picture here to the left is her original appearance. This is definitely her hotter costume, having much see through material to gaze at. She definitely is a looker. We do love all the leather these villains wear.
Morgana is the woman who doesn't want to grow up. She gets turned into a child again so that she can play with dolls. But because she failed to kill the Rangers, she is punished by being turned back into an adult. This may be a terrible change for her, but not for the viewers. She is a very beautiful woman, though again, she isn't like super hot. Her attire consists of a long black dress that hugs all the right places. When she wants to fight, she wears a nice, tight battle uniform that shows off her curves.
Overall, both women are good looking, but I would say Morgana is just a little more so. Her long brown hair adds to her beauty enough to push her forward.
Victor-

Morgana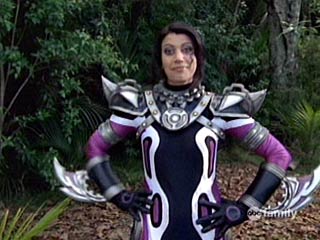 Match 7
Miratrix (Operation Overdrive)
VS
Camille (Jungle Fury)
This match pits two dark haired beauties together.
Miratrix has a very beautiful face. At the beginning of the show she has long hair.
I prefer her with the long hair personally, but anyway you slice it, she is very beautiful. Her dress thing doesn't do all that much to flatter what I am sure is a gorgeous figure, but her legs do look great in those tight black pants or whatever they are.
Camille too has an extremely beautiful face. Her outfit does not reveal anything at all, but she looks incredibly hot in it none the less.
Both girls have great hair, and I am sure their bodies are amazing. But their faces just make you want to stoke their cheek before giving them a big old kiss. But I would have to say Camille is the more beautiful out of the too. There is an innocence there that is just so alluring.
Victor-

Camille
Match 8
Tenaya 7 (RPM)
VS
Tenaya 15 (RPM)
Okay, okay, they are the exact same woman, just rebuilt a few generations. Tenaya actually goes unopposed. She is the last human looking villain in the entire franchise it would seem. But just look at her. They certainly went out with a bang. Luscious, long straight locks you just want to run your fingers through, a tough, yet sexy and gorgeous face that you would likely be unable to resist kissing if you were to meet her face to face. And let's talk about her outfit. It covers her entire body, yet it is so wonderfully tight, it hardly leaves anything to the imagination. The only thing you are imagining when looking at this hottie is that darn zipper that holds the whole piece together being pulled down. It is already pulled down to the point that makes it uninteresting, yet oddly tantalizing, not to mention obnoxious and taunting. Just one more inch and we would have a view of what I am sure is wonderful cleavage. But don't stop there. You can just imagine pulling that sucker all the way down where it stops at the navel. Then you can imagine her stepping out of that sexy outfit, just to finally show you the form the outfit only teased you with.
I mean, look at that butt. What a teasing outfit! It doesn't matter if she is alone in this bout, she is so stinking hot, chances are she would win anyway.
Victor-

Tenaya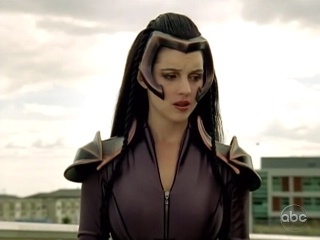 That is it for round 1. See you for round 2, where the competition really starts to heat up!
Check out the Tournament Of Hotties: Power Rangers all listed here for some even more intense hottie action.