I have been watching Dragon Ball and Dragon Ball Z in their entirety the past few months and while I love the series, there is one thing that really stands out that makes me ask "WTF!" And that is the position of guardian of the Earth, more specifically, Kami.
What a BS character. We are first introduced to Kami in season 4 of Dragon Ball, shortly after King Piccolo's defeat at the hands of Goku. Goku climbs all the way up to Kami's Lookout high in the atmosphere I would assume. Why is his lookout so high up? While it never is said, I imagine it is so the guardian can easily watch over the entire planet, protecting it from well…I suppose…everything. Kami is the guardian after all. This would be fine and dandy except for the fact that Kami is a lazy, old piece of garbage who has nothing on his mind except making sure Mr. Popo waters the flowers everyday. I mean seriously, he is a piece of crap, only twice ever doing anything to help the earth.
Let's start from the beginning. Kami wants to become guardian of the Earth, but has a darkness inside him, so his predecessor does not approve of him to take the throne. In answer to this, Kami figures out how to remove this dark side of him, which becomes an entire evil entity known as Piccolo. This is where Kami's BS really starts. Yep, right here, before he is even guardian of the Earth.
Having been removed from all darkness and evil, Kami ascends to the throne. Yet ironically, Piccolo immediately sets out to destroy and invade Earth. And what does Kami do about it?
Absolutely nothing!
So, in his haste and greed to become protector of the Earth, he creates a being that would destroy it, and then takes no responsibility for this evil twin. He just sits back and revels on his throne. What does he care if Piccolo kills everyone on Earth with his great power and demon army?
No, instead the burden falls on Master Mutaito (I am guessing on the spelling here). That's right, some poor martial artist, after seeing all but two of his martial arts students murdered at the hands of Piccolo and his demons, along with half the world's population, the martial arts master develops the Evil Containment Wave, using his own life force to perform the move and trap the evil demon. A noble sacrifice. One that you might think the guardian of the Earth might make. But no, he was too busy doing nothing at all.
King Piccolo returns decades later, and Kami shows his ignorance for his job once again,  allowing Piccolo to kill a whole lot of people before Goku steps up and takes him down.
Goku then climbs to Kami's Lookout, only to find that the two inhabitants are both far stronger than Goku and Piccolo. That's right, Goku had to give it everything he had to beat Piccolo, yet Kami reveals himself to be far beyond Piccolo's powers. But he couldn't be bothered to go fight his evil side. Why would he when there's little kids willing to do the task?
Kami informs Goku that Piccolo spat out an egg and that he must face what hatches at the next Martials Arts Tournament. Kami tells Goku he must live at the lookout and learn all that he can teach. Yet, Kami can't even be bothered to train him. He makes Mr. Popo do it.
When the time comes and Piccolo Jr. shows up, Kami disguises himself as a human named Hero and actually goes down to Earth to stop Piccolo, fearing Goku would not be able to do so. In other words, Kami makes a noble sacrifice as guardian for the first time ever. His plans backfire, and its Goku who winds up having to save him, actually preventing Goku from giving it his all until Kami was rescued. So he ends up being nothing but a liability.
The next great threat on Earth is the Saiyans. Kami eases his conscience by training the Z fighters to prepare for the battle, doing nothing otherwise to save his planet.
Then Garlic Jr. comes and takes over his lookout and almost turns all the people of Earth into his puppets. With Mr. Popo's encouragement, the duo set off into some weird dimension to save the Earth. Mr.Popo had to constantly hold his hand through the whole thing, but in the end, he did something useful for the Earth. But we all know his real motivation behind it. He was ticked off something awful that someone else was sitting in his chair.
While he was whimpering in that dimension, Gohan, Piccolo and Krillin were stuck fighting the immortal monster. Seems pretty convenient for Kami…
But the real kicker is in the android saga. When Trunks, Gohan and Bulma discover Cell's shed skin, Kami reveals that he has sensed a great evil for FOUR YEARS! He sat back and watched it fester, growing day by day. But do you think he mentioned it to anybody? Do you think he got down off his throne and went to take out the significantly weaker evil on his own? Nah, he just ignored it. This tactic has always worked out for him before, so he was sure it would now too. The Z fighters, they would take care of it, while he takes all the credit from the guardian galactic council or something in their monthly meetings.
Kami finally gives up his life more or less to fuse back with Piccolo to power him up so they could defeat the androids. The only reason he did this was because he was like 500 years old and about to keel over anyway. A convenient way to live a little longer. He offered Piccolo the job of Guardian of the Earth when he sensed his time was near. If Kami fused with him, maybe Piccolo might one day take that job, so he could resume sitting in his chair, as power hungry as ever. What an A-Hole!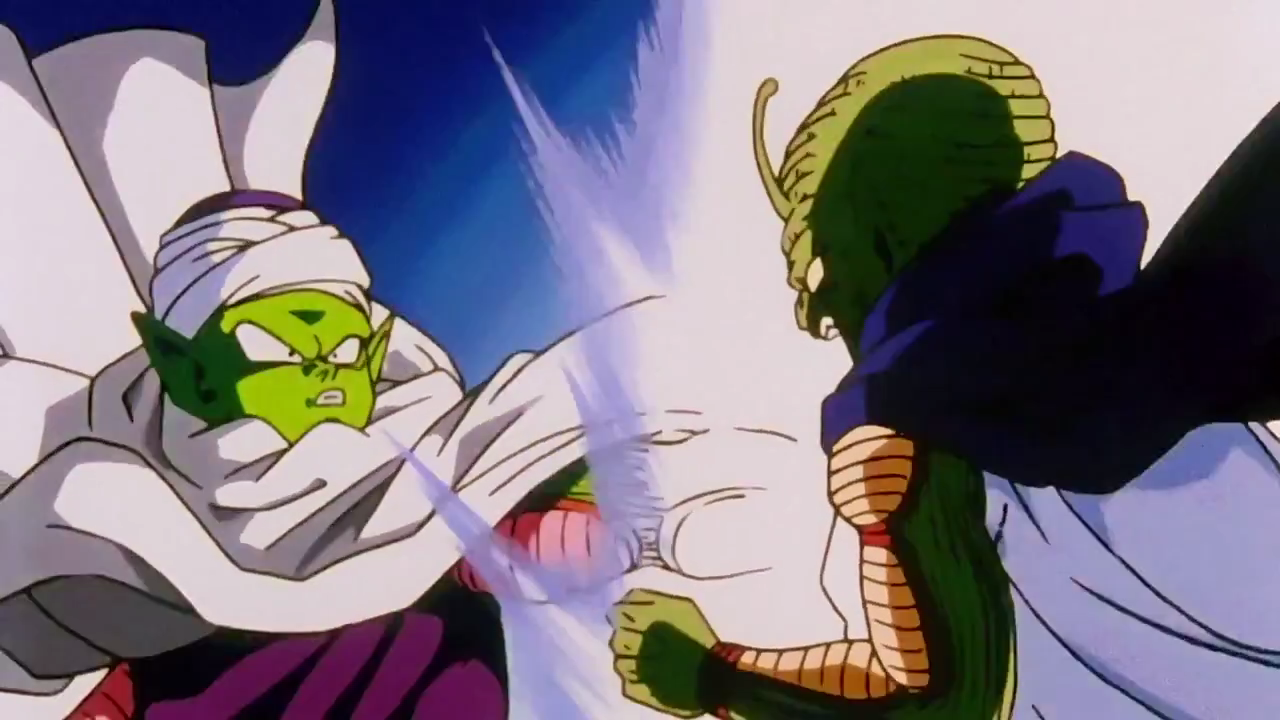 Another thing that bothers me is that he states I think in the Saiyan saga that the Eternal Dragon is only as powerful as its creator, in this case Kami. So that is why they could not wish to destroy the Saiyans or whoever they wanted to with the dragon, for it was not within Kami's power.
So what I get out of this revelation is that Kami has the ability to bring people back to life, grant immortality, and basically grant any wish anyone may desire.
If that is true, then wtf Kami? Why do you never bring people back to life on your own? The Z fighters fight all your battles, you think the least you could do is bring back the ones that die to save the Earth, or use your powers to undo the horrible wreckage that all the villains who plague the Earth have wrought.
I am sure his power is limited in person, having to channel it through the dragon instead, but that's just what he wants you to think…Kami you wrinkly, old bag. F U.