I was recently reminded on how the world thinks the original Mighty Morphin' Power Rangers TV series is incredibly racist. And all I've got to say is…really? People really do complain about anything these days…and I guess they did 25 years ago too.
The first time I ever heard of these racist claims was in high school, around 15 years after the original season had aired. I vividly remember sitting in second period study hall my senior year and my friend had mentioned how it was racist. Unable to put together myself why that was so, I asked him to explain. And I just shook my head at the answer. The yellow ranger is Asian, and the black ranger is black. How dare a show be so racist!
To tell you the truth I never understood the Asian-yellow thing until my wife explained to me last week that many people consider Asians to have yellow colored skin.
What?
I would never in a million years have made such a correlation, but at least 9 years of confusion has been settled!
But seriously? Does that mean that the Simpsons actually takes place in Asia? Is Marge really a tall, blue haired Asian, because that would be my favorite type of person ever.
And when I was a little kid and colored pictures and stuff, I always colored the white people yellow, because I thought that was a more accurate color than "white" for Caucasians. Or really tan I thought to be the best, but there were never tan crayons.
Oh jeez, my parents and teachers and friends probably all thought I had a fetish with Asian people or something. I do remember my teachers giving me some looks. I always thought it was because I was an atrocious artist, but no, it was because I made my family portrait all Asian.
But that is all besides the point. The point is, HOW IN THE WORLD DOES WEARING A COSTUME OF THE SAME COLOR AS YOUR SKIN MAKE IT RACIST? Even if Trini did have yellow skin, it still makes no sense…
I'm sorry, I can't wrap my head around this. Maybe it is because I am not a racist person and lack any knowledge of what it is like to be racist, but it just doesn't make sense. So the guy happens to be black and is the black power ranger? What is the big deal? It's not like the creators hired people first, and then chose the colors. In fact the show is mostly just stock footage from the Japanese series anyway, so they just had to basically cast people for the parts when they were not morphed. And I seriously doubt the people said, "Hmm, we have a black power ranger, so we better cast a black person." And even if they did, how is that being racist anyway?
And speaking of the Japanese show. There is always a yellow ranger in every single season that I can think of. So what does that mean then? Are the Japanese people, being part of Asia, being racist for knowingly and willingly putting yellow-costumed characters in their TV show? Are they insulting themselves?
My answer-They don't give a crap because only Americans concern themselves with such stupid claims.
So needless to say, after that, any Asian people were never in a yellow costume again, and black people were never black. Except once, a black guy played the black ranger in Operation Overdrive. So what is that all about? Is he considered a disgrace to all African-Americans for accepting a job that will make the show so unbelievably racist? Or is he a hero for stepping over racial boundaries? Who is being offended in this case anyway, and WHY!?!?!?!?
Anyway, I like to believe he's just an awesome guy who really doesn't care and is like me and can't figure out how it is racist.
And if that's racist, then WTF is this!?!?!?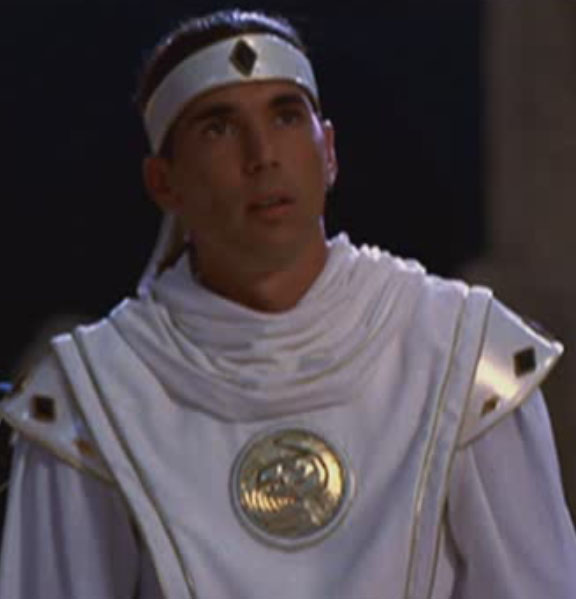 A white guy as the white ranger? Should I be offended by this? Or is it other races that are supposed to be offended?
How dare he wear colors that resemble the color of his skin! You a-hole! Burn in Hell!
Am I doing it right? Am I mad enough? Am I mad at the wrong person? I never knew racism could be so confusing.
And is this issue telling me that black people can't wear black clothing either? Can Asians wear yellow? Can whites wear white? I'm told not after Labor Day, which is another thing I can't understand, but I won't get into that. And…YIKES! I am wearing a white T-Shirt AS I AM TYPING THIS! So tell me, just tell me, what kind of statement does that make? Am I being racist against myself? Is someone who is not white going to get ticked if he sees me in this shirt? Or do I get mad because they are looking at my shirt and comparing it to my skin? Or do I look like a cocky jerk for wearing white? I just don't get it.
And then look at this shot.
The white ranger looks like some bad ass KKK member. Should the black girl in the group get offended by this? And while she's thinking about if she should be offended or not, is she mad at the Asian for wearing black clothing? Is that offensive to an African-American, or is the issue truly only when someone of the same color wears it? So is she thinking, "Thank god I'm not wearing that!"?
You like how they swapped out an Asian girl for a black one, and a black guy for an Asian to please critics? Clever bastards. But is just swapping sex and race like that politically correct? And notice, there are no Latinos (I'm not sure of the politically correct term) in this season. Is excluding an ethnicity racist? And is having too many people of one ethnicity racist? In this particular picture, there are four Caucasians…FOUR of them! And they have the nerve to place one of them as the white ranger no less! What a hog of a race! No Latinos, but four f'ing whites. You have got to be kidding me!! Wait…should I be mad over this? Are they overly using my race, making them the most prominent race in the show, thus exposing more of the actions and stereotypes associated with white people in an unfair way? Or do I feel empowered that my race has the most representation in this season?
And how far does this racism go? Is it pertaining only to skin color? What about green? That is always attached to the Irish. Does that mean an Irish person can't be a green ranger without being racist?
And take a look at the blue ranger from RPM..
.
He's Scottish. So let's take a look at the Scottish flag now…
Look familiar? The flag looks exactly like the costume! Knowing that the costumes are copied from the Japanese show, does this mean that the casters for the American version deliberately found a Scottish person strictly because the costume resembled the flag of his home country? And if so? Is that racist? Is it racist to wear the flag of your country across your chest? Or does said person wear it with pride? I think the latter would be true if the costume was designed specifically for him, but since it's not and they hired him because of the resemblance to the flag, then God damn it, that must be racist as hell!
Not to mention in the board game Risk, Europe is
colored in blue. So is that racist as well? Is coloring a country in a game friggin' racist if it's using the same colors as flags? Or will some people living in that continent get ticked off that it's blue just because it's not a color they feel best
represents them? If that's the case, then it is indeed racist and/or offensive that Cameron from the Ninja Storm season is the green ranger simply because Asia is green in Risk. And thank God they made North America yellow instead of Asia, because we all know what a catastrophically racist move that would have been. The game would have flopped completely.
And why stop at racism? Isn't the fact that the girls are always in pink and another generally in yellow sexist? Those colors are always associated with girls, thus any boy who shows any interest in those colors is considered feminine or gay. I remember when I was four years old, yellow was my favorite color. But once my pre-school peers and I learned yellow was a girl color, I was a laughing stock in school. I was called a girl and all sorts of vile 4-year-old imaginative insults. I may have even been called a poopy head! I quickly changed my favorite color to green, because that was the coolest power ranger at the time. If green was your favorite color, you were in, man. You were the shi…I mean poop.
But thanks Power Rangers. Thanks a lot. If it wasn't for your sexist portrayal of actresses playing typically "girly" colors, I would have been spared that traumatizing torture. If you were so bold to break down the barriers of sexism, and made the girl in the green costume, and the boy in the yellow, maybe I would have been the coolest kid on the playground. Your insensitivity has ruined my life! It set me on a path I could never deviate from, before I even had a chance to choose my own path. I HATE YOU POWER RANGERS!!!
Enough about me.  Look, at the disproportionate casting. There is never more than two female rangers, and always a ton of male ones. That is ridiculous. Is this a symbol that women, save for a select few, specifically 1-2 in every 4-6 males are capable of doing great things? Of being the hero's of a generation? Of saving the world? Of demonstrating great power? Is a team of two girls and four males demonstrating that men always have and always will keep women in check? That they will always overpower the women, and never rise against the men?
There is always one ranger who typically gets an awesome, incredibly powerful upgrade in a lot of the seasons. But the women never do. They might get extra power along with everyone else, and you might think, "Okay, there may be fewer women with power, but it is equal power." But this "ultra upgrade" only applies to one person…a man…and it just goes to show that every time a woman gets more power, men will rise up with even greater power. You shameful bastard of a show!!
So the series fixed their "racist" problem. Did they ever remedy the sexist issues? Well… no! Some seasons only have one girl or none at all initially. Sometimes they are added in later, no doubt symbolizing that women are merely an afterthought when it comes to national dominance, just something to be added to please any nay-sayers.
Though when Power Rangers: Ninja Storm came out, a girl was the blue ranger and a boy was the yellow. Was this in response to sexist claims? No it was not. The Japanese show dictates the sex of each ranger. The girl costumes always sported skirts.
Since they used so much stock footage, they could not alter the costumes in the American version for continuities sake. But isn't just the simple fact of having skirts on the girls sexist too? What the heck? Why do they have to dress differently? We have already established that they designate specific colors for the girls, so why do they have to add insult to injury with a skirt too?
If the color isn't tell enough who the females are, the bumps on their chests might be a good tip off!
Oh…that's why, they started to vary on their colors a bit. But what does that mean? The skirts are added to remind you who the girl is once they are not in a girly color? Well, we don't need reminding who each individual ranger is once they morph for the men, so why do we need skirts for the ladies?
But wait! In many of the older seasons, the pink ranger was the only one with a skirt, meaning the Japanese actor for the yellow ranger was most likely male, thus America really did not find it suitable for a male to be in such a feminine color, so it had to be a girl cast for the role. That is downplaying both sexes there! That's right folks, you read right…DOUBLE SEXISM!!!
So again it comes down to the original creators in Japan. Shame on them for always making sexist Power Rangers series!! Oh wait!! Can I say that? By saying that, I can be considered racist! Uh oh!!
Wait a minute…
Hmm…………………………………………………………………………………………………………………….
Now I get it. Now I understand. Everything has come full circle. I finally see how it is a racist TV show. It isn't until you start thinking about it deeply enough that you realize how all these thoughts fit together and bring you to a place where racism and sexism exist.
BUT NO!!!
It is even DEEPER than that!!!
The colors of each ranger represent a prejudice that is buried within us all. This, combined with the violence in the show, makes those more aware of this prejudice feel uncomfortable. So they accuse the show of being racist, unwilling to admit that they themselves just might be.
Not wanting the success of their show to slip, the producers start adjusting things about the show to ease the complainers consciences. But ironically, these changes make other people aware of what they are doing, thus their solutions for peace just bring more awareness to the issue they are trying to avoid!
Pretty soon everyone is pointing fingers at someone else, blaming someone for each individual problem, so before long everyone involved in the making of the series is guilty of something. Naturally, there are multiple races and both sexes working on these shows, so this creates racist and sexist feelings in the workplace. So now it is like the shows issues have overflowed into the studios making them, so what was once accidental offensive fiction has now spilled out into the real world!
Before you know it, people are infected by this and go home and tell their friends and family, who spread it to everyone they know, so that eventually the entire nation is gripped by these awful, unethical feelings. The atmosphere of daily life becomes dark and polluted…everyone feels alone, themselves versus the world kind of deal. Breakdowns, divorces, hysteria and other stress related illnesses become more frequent. Crime rates skyrocket! The nation goes in a downhill slump. And when everything is on the breaking point, things start to look up! The people realize that all this horrible, horrible mess isn't really their fault. It can all be traced back to the Super Sentai Rangers of Japan.
Suddenly the haze clears and life returns to normal. America can now throw the blame to Japan for creating such an insensitive show.
So what do they have to say for themselves, for the hurt Americans demand answers!
They would honestly probably say "What are you talking about? Get over yourselves! There is nothing wrong with our series' so please shut up and have a nice day."
The Americans do not take nicely to this kind of backlash, so now intercontinental war has been started and all on the basis of race! But the women of America are not to be forgotten as well! They demand better representation in their lives, so now a civil war has emerged as well. Not to mention the home quarrels of the broken relationships that will never heal from when the show first came out and revealed it's racism. Now the country is fighting on two fronts, one of them their own! But with all wars, other nations are dragged in, so that eventually the whole world is involved in one way or another. And who knows if these silent wars will ever be concluded?
There will never be a trust among people like there was pre-Power Rangers. It is the immoralities and offensive use of visual stimulation that has torn this world apart. It's why there is such a gap between men and women, why different ethnicities will never truly call each other "brother" and to avoid being sexist, "sister."
And going back to the rangers themselves, what options do they have left when casting new rangers? The actors can't be in the same color as their skin, the girls can't be in typical girl colors, etc. Like there are so many rules to just putting someone in a costume that they might as well just make them all colored gray and play it safe. I'm always hearing there are 50 shades of gray, so they've got plenty to work with. But I am not even sure if that is safe to say. Who am I offending by saying gray? You can never be too certain but I'm sure someone will be upset. Like jeez, do you see the fearsome uncertainty that plays on our every decision? The feeling of unease that fills our lungs with every breath, that makes our hearts pound just a little more urgently? I have always been looking for a reason why life stinks so badly and now I understand.
For more global reasoning, consider this.
It is because of Power Rangers that Hilary Clinton did not become the 45th President of the United States, why America will always have a presence in the middle east, why nations stockpile nuclear bombs and why men will always make more money than women, why the unemployment rate is so high, and why the Great Recession came about!!
Every problem you ever had from the 90's onward might be related to the first season of Mighty Morphin' Power Rangers…
And it's all because they cast a black guy as the black ranger.