Over the summer I held a tournament for all the female Power Rangers, where they battled it out to see who was the hottest ranger of all time. During my research during that tournament, I discovered something remarkable. Not only were the Power Rangers gorgeous, but many of the villains were as well. For some reason, I never realized just how hot they were when watching the show. Probably because I was too glued to the rangers.
I wasn't going to do another Power Rangers related tournament, but it seemed wrong to not bring attention to these beautiful villains. Plus, with the new movie coming out, I might as well to celebrate it.
I will be placing the villains against each other in the order they appear in the shows.
Match 1
Rita (Mighty Morhpin')
VS
Scorpina (Might Morphin')
The very first villain to create the need for Power Rangers is Rita Repulsa. We should thank her for bringing about a necessity for protectors of Earth, thus giving us so many wonderful girls to look at. As for her looks, she isn't attractive at all. The best part about her is her nipple horns, suggesting some huge pointy nips. Though be careful when playing around that area, you could lose an eye! Her ugly colored dress she borrowed from Queen Elizabeth I is highly unflattering.
Scorpina is one of Rita's henchmen, and how embarrassing to have one of your generals beat you so severely into the ground when it comes to looks. Scorpina has an absoultely beautiful face, her gorgeous lips highlighted in that sexy lip stick. Her body is flawless. Though half of it is covered in thick armor, she is gracious enough to have the other half covered in skin tight material. Her golden bra brings your attention to the boobs beneath it too. She looks awesome as a villain, but even more awesome as a fine, sexy woman. She wins this round, no contest.
Victor-
Scorpina
Match 2
Divatox (Turbo)
VS
Astronema (In Space)
Here is a great bout. These two beauties are incredible to look at. Let's start with Divatox. Her face isn't all that pretty, though her mask kind of hides it. But boy does she have a fine pair of jugs, practically bursting out of her costume. Speaking of her costume, it is quite sexy.
Observe how her front is completely exposed down her stomach, her whole torso only being covered by strings holding two pieces of leather to her sides. That is big bonus points.
Her costume also seems to push up her boobs, giving viewers the incredible pleasure of looking at her wonderful cleavage.
And to top off the outfit is a skirt that shows some leg, just a bit, but enough to be sexy.
On top of everything else, she is energetic and flirtatious at times, which suits her very well.
Astronema is also very sexy, always donned in black leather that shows off her great figure. Her hair style and color change constantly, but we are never looking that far up her anyway. All her costumes seem to outline her boobs for us too. How thoughtful! She is a fierce villain with a compassionate side deep within her. There is also a huge pool of sexiness in there too!
So which of these sexy evil beings will move on? Honestly, it's a tough call, but I would have to go with Astronema. Divatox has a great body and costume, but she isn't nearly as beautiful as Astronema, who also has an incredible body, even though it is being covered by irksome clothing.
But let us celebrate Divatox's loss with some wonderful pictures!
What a rack!
Victor-Astronema
Match 3
Trakeena (Lost Galaxy)
VS
Vypra (LightSpeed Rescue)
This is another match against two rather hot villains.
Trakeena is the daughter of a big nasty scorpion alien thing. Though the only things Trakeena has inherited from her big gross ugly dad seems to be some weird bug hat and some light armor, the best of which is a delightful carapace bra that just makes us want to knock on those knockers. The rest of Trakeena seems to be all human, and a slender, perfect bodied human at that. Her tight fitting costume has plenty of sexy holes in it, showing off her fit figure and hot legs. Often in the show she acts a little sexy, a little human, and a lot of hot. The human side of her, and her desire for love make you very much want to give it to her in any way, shape or form.
And then we have Vypra, and oh my god. I could kiss the person who designed her costume. Her acting was nothing short of atrocious, making you want to cringe every time she opened her mouth. But you couldn't wait for her to be on screen to see that rockin' bod. All you had to do was plug her mouth up with a handy tool and you would be one happy fellow.
Her costume consists of little more than a metal bra and tight leather pants. Her pants show off her beautiful legs and butt, but thankfully her lack of a top really shows us how hot her body is. When she's on screen, just put your fingers in your ears and start drooling, assuming you have both your hands free that is…
So which of these boob armored babes should advance? I would have to go with Vypra. While both women are extremely hot, her costume is far more revealing, and she is a hotter woman in general.
Victor-

Vypra
Match 4
Nadira (Time Force)
VS
Toxica (Wild Force)
Another pair of hotties here. Nadira is the spoiled daughter of future force Ransik. She has a very annoying, whiny attitude, but that is easily forgiven thanks to the wonderful attire she typically wears. As you can see above, she has no need to cover up most of her upper body, and that's just the way we like it. What this picture doesn't show is the sexy, short skirt she wears too, exposing her smooth, slender legs. Heck, she is so hot, even the pink hair doesn't throw us off. She is even known to dress in some hot leather too.
She looks great in that too.
Toxica is also a very beautiful woman. She has a tough attitude, but is always treated so poorly despite how hard she tries. This struggle really brings us closer to her. But what is with all those clothes? You can hardly see anything of her, and that just isn't so good when you're up against a scantily clad, pink haired hottie.
Victor-

Nadira
Match 5
Marah
VS
Kapri
Next we have two sisters, both from the Ninja Storm season. Marah is the one on the left. She has a pretty face, but an absurd hat that I think is supposed to be mostly hair. I do like her red top though.
Kapri has an all around sexier look. Her top, while not all that revealing, still has a sexy and cool look to it that is very eye catching. The pink hair and skin tight purple pants help draw your attention towards her too. Just overall, she is hotter, and that's why she will beat her sister to round 2!
Victor-
Kapri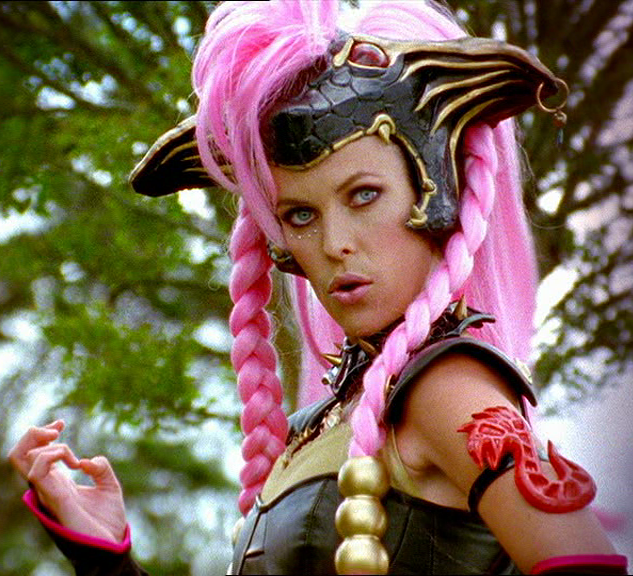 That is all for now. Check in soon for Round 1 Part 2!